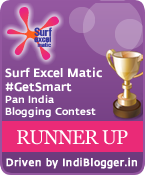 "This Post won the above award. I got a Logitech wireless mouse for it! Thank You IndiBlogger.in and Surf Excel Matic" - Anoop
How I was born…

The road thru Timesville feels strange,
My master had for me found a place
History begins with a Desert Storm
My parents were about to have a baby boy
Prayed they, "Lord, grant us this joy",
"Please let it be a morning toy".
But my Creator had better plans,
He did what must seem cruel at land!
And so it happened, the water broke
At nine p.m., after the dinner clock.
Dad feared a threat, but Mom must go
Be hospitalized to deliver me, lo!
So took them, risk, of severe kind;
Crossed men of zing, with life in God's hands!
Time was believed to heal the pain,
But then, time was a wicked snare!
Mom was relieved after I was born,
But at that time Dad was at gun point!
Even today Dad tells me this tale
To remind me of God's Glory!
For you who read, it may sound pale;
Once I a dream, now pen this story!


(c) Poem By: Anoop M. Mathew Dated: 12-11-2011



Glimpses from the Gulf War
Image Courtesy: Google.com
Time the teacher...

When you act naive at times, that's when you get your punishment. There's always a reason why certain things happen to us. And almost all the time it happens due to certain things we fail to realize that are important to us. The feeling of regret comes only later on when we get back in our senses and that too only after a particular amount of time. The situation arises each day because we often neglect the situ things that matter to us in the long run. As human beings, we often face memory problems. These problems result in unwanted expectations amongst our lives that create a feeling of regret for our terrified minds.

Man is an opportunist and makes use of all the possibilities he gets, just in order that he does not regret the past or its actions. The feeling of having never tried to do the right thing always lingers in the deepest corners of our minds. Time will judge out fate, as each day goes by, we move on our separate lives, all living towards a goal to endure further in the era of liberalization of oneself in this world. The often turned numbness that we endure is described by the never ending prodigies of self realization. The time can judge our fates, but the tides can never really wash away our lies.

The dawn of judgment will arise only when we make use of time in the most effective manner. Time is a tool that takes the toll of turning the human being into the weapon he was intended for. The weapon here is an illustration of either good or evil. But the truth always prevails with the good.


The day the Earth stood still...
Pondering upon the realms of reality is like watering a never ending fountain. The times we live in are filled with fast moving technologies that keep us often away from ourselves. We do not get time to spend for our own. We don't stop to think about what has happened, let alone dream. How then can our long lost desires come to life?

The day with its 24 hours, sounds perfect for a normal human being. But consider the psychology of someone who likes to think outside the box. The greatest desire a man can have is time. The need for time is evident in our daily lives. Often we don't find time to do the important chores in our lives. But is it so important to live a life likewise?

Time can change a man, break a man, mold a man and mend a man. With time the tales of past incidents can be taken as lessons for a better future.

The fOol's Play...
What is time in the hands of a fool when all he knows to do is to vent his emotions? The world today has gone haywire with the trend of false passion. Everything wrong is considered as the essence and the niche to eternal satisfaction is often perverseness. The ideals of a simple man no longer exist in this era of uncertain menaces who reign over empires of unsinkable pleasure.
Each second counts...
Image Courtesy: yankodesign.com
Time has no value. Effortless of deceive, the human kind has diminished from a mere forte of sincere population to a realm of pride hunting, blood sucking, dare I say, heart breaking survivors. Yes, survival is the only aim, and the means to achieve it are infinite. The value for morality is a long lost fairy tale, suited only for the noble. But where can you find a noble man after all?

A day gives us 24 hours. The 8 or so hours that we spend sleeping can be avoided, but what do we do during the remaining time? The idea of bringing a smile to the faces of a zillion lives each day can only be a dream. But, have you tried to bring a smile on the face of at least one person?
If time is a killer, then why do you need Extra Time...??
As selfish humans, do we need extra time? An extra 2 hours a day will be wasted on selfish intentions. What difference does it make in our already pathetic lives?

When the day's done and the morrow's at sunrise, just ponder back at life and thank all the people who made you happy; and think of how many people you made happy today. Then you'll realize how truly Happiness exists! That's the true value you would have given to time! And that's what I would try to do if an extra 2 hours were added to my day!

P.S.: This article was written for the IndiBlogger - Surf Excel Matic #GetSmart Contest: If you had two extra hours in a day, how would you spend it?
If you liked this post, please vote for me at IndiBlogger: Click Here to Vote